I had been wanting to repaint the kitchen+dining room for quite awhile now. Heck, it's the only room in the house that hasn't been repainted [multiple times might I add] since we moved here 5 years ago. Everyone teases me about my ever-changing tastes, but I consider it a hobby and such a fun one at that. Some people shop, others party, some scrapbook and well I--I decorate!
About a year ago I was reading Chelsea's blog and absolutely fell in love with this photo she
posted
!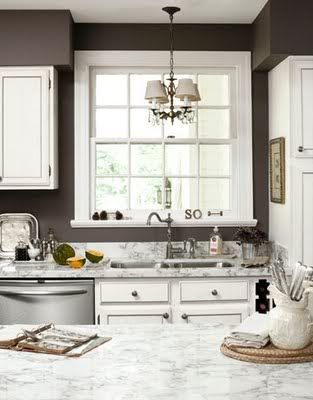 Then not too long ago Bryn
posted
it again. And upon seeing it again, I fell in love all over! As with all things I fall in love with I acted fast to repaint right away! I knew our little kitchen needed a paint makeover and Ralph Lauren Mercer was just the answer. Now as some of you bloggers probably know, Ralph Lauren paint is no longer carried at Home Depot, but they still had the fan deck and colormatched it-no problema!
I was able to tape [with Dave's help] and paint all by myself in about 4 hours. I forgot how much I hate cutting in!
It's safe to say I'm pretty much in love with the color and can't wait to make those floors reflect my style more accurately. They cheapie laminate sheet stands out like a sore thumb but I have big plans for its replacement someday!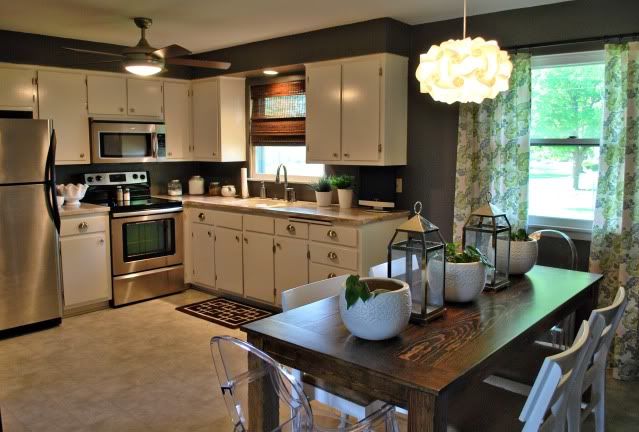 I also ordered this Amy Butler
fabric online
and followed John and Sherry's
no-sew hem tutoria
l and I had both "curtains" up within the hour! I love the vintage feel to them [no surprise there] and well the pink and grey were pretty much icing on the cake.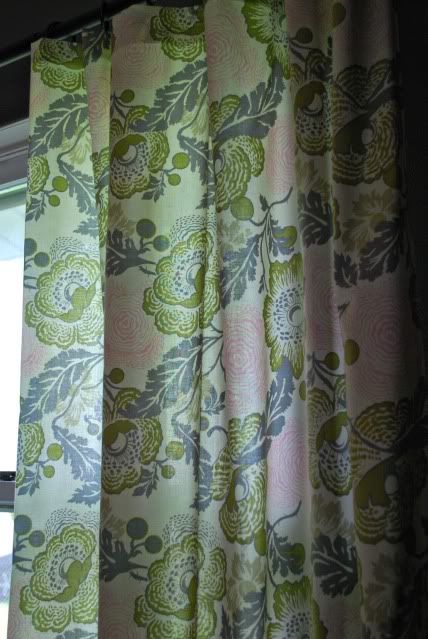 I know I was a major tease by only showing you a hint of the table last week, but here she is in all of her glory. To say I am pleased with it is the understatement of the year. It is the best thing ever! I have tons of pics and some info about the process if anyone is interested--post to come on that later. : )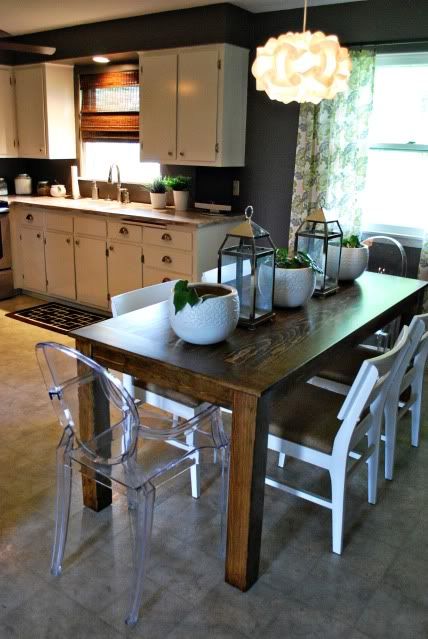 I've got more plans up my sleeve for this double room that I can't wait to share with all of you. One of them involves more building---Dan, are you listening? ; )

¡Hasta luego, chiquitas!

xoxo