Fresh flowers are such a treat. Like a good piece of dark chocolate, they can put the biggest smile on my face. We're lucky around these parts because we're sporting 3 different fresh flower arrangements.
I don't think I told ya'll, but recently we were honored to be part of a photo shoot for
St. Louis AT HOME magazine
and our home will be featured in the magazine at the end of April. Ohmygosh...I am beyond excited. We got to see preliminary shots of our place and they look awesome!
It was so fun to be a part of the process and see what goes into making your home look a certain way. There is a lot of staging and rearranging to make things pop on camera. Tables get propped up with books, furniture gets moved closer together than would normally make sense, and decor gets added and subtracted at the blink of an eye. Not that our experience was anything close to
theirs
, but I can relate to the summary of their photo shoot experience.
The ladies that came out to do the shoot were sweeter than pie and David and I had a blast chatting it up with them all day. They were such dolls and let us keep all of the fresh food and flowers they brought in to spruce up our space.
Right now we're rocking pretty peonies in the kitchen:
I'm totally digging these palm leaves on the buffet, so much so that they may be making a reappearance in the future!: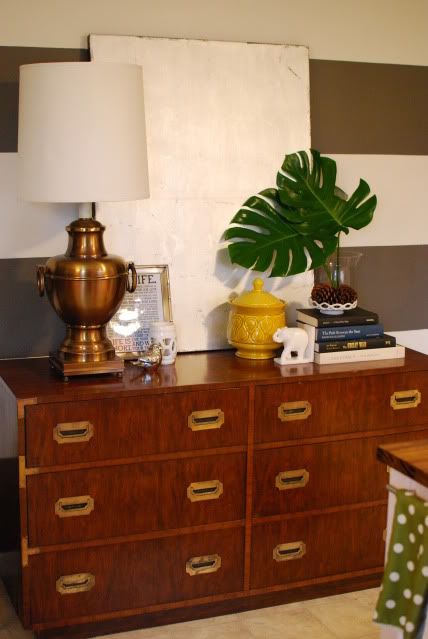 And we round it out with a perfect-for-springtime tulip bouquet: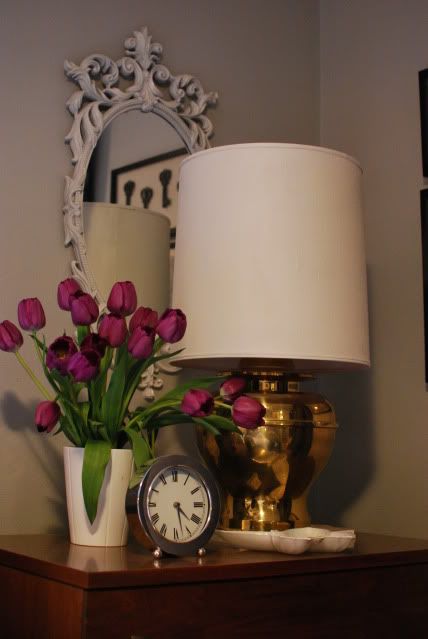 I'm in love with all of them and am just a little giddy enjoying their sweet presence in our home.
So, friends, what are
your
plans for this Daylight Savings Time weekend? I think I'm going to hit up an antique show and relax. I'm not a super fan of losing an hour of sleep but I'd take that any day to get more daylight in the evening. Bring on the sunshine. : )
xoxo