So the another night while I was watching the abysmal season of
Design Star
, I was totally smitten with Genevieve Gorder's shoes. {Sorry for the quality, I had to do a screen cap of the video.}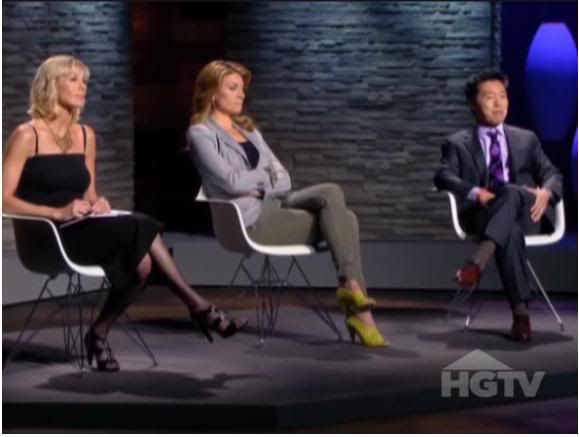 The mustard yellow immediately drew me to them and,
in that instant
, I knew I wanted them. If you've been watching this season of Design Star you'll probably agree that getting sidetracked by fashion is just an inevitable occurrence since not much designing seems to be going on there.
I could go on and on about my disdain for this season's show but I think I'll leave
it to this blogger
, who seems to have a way with words and says what I
think
am certain everyone who is watching, really feels!
Anyhoo, back to those shoes! Well, a couple weeks went by and like normal, I forgot about them. But, fast forward to tonight and I stumble upon
this post
, on
this blog
, featuring
this photo
and I see
them
-the shoes that I had so lusted for weeks prior, but forgot about until that very moment.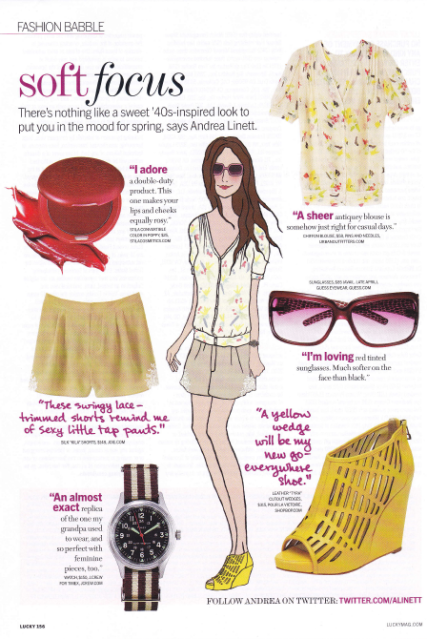 I knew this had to be a sign, right? So I magnified the image to see if I could read the fine print but-dang it- I unfortunately couldn't.
I thus resorted to my trusty friend google and typed "yellow cut out wedge." Hoping for fast results I somehow ended up on like the 10th page of endless.com and
found them
! And, wouldn't you know, one size 8.5 left! Yup, in my cart they went and by now they're on their happy little way to my house...probably in enough time to make an appearance for the first day of school outfit. We shall see.
And as I look back at good ol' Genevieve's shoes, I notice they're not the same, but who says inspiration has to lead to an exact replica? Yeah, not me. : ) Let's hope I like them just the same!
Enjoy your weekends, friends. ♥
xoxo