So I love this look that I found on rate my space. I fell in instant love with the ghost chairs, table and white west elm chairs, as well.
I tried to replicate this image, but I really need the table to make it all mesh. The table and chairs were a craigslist find and while I painted the chairs white and reupholstered the seats with burlap, I didn't lay a finger on the table. Oh and the ghost chairs...those were an
Overstock purchase
and I couldn't be happier with them!
I found a table that I love via West Elm, but the nearly
$600 price tag
has me a bit gun shy. I mean, how am I supposed to afford this
and
a
$600 strolle
r
for a kid who's not even thought of yet? ; )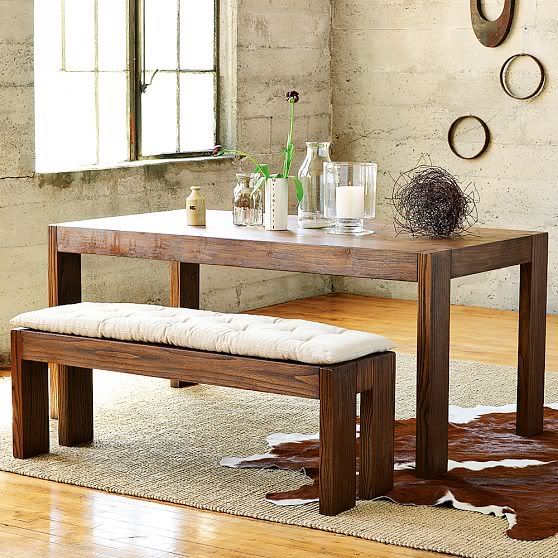 I've been saving up my points on
mypoints.com
but at this rate it'll take two more years to be able to afford it. And then, well, who knows what I will like. My constant ever-evolving taste seems to always do this to me.
Anyhoo, the point of the story is that Ana, over at
Knock Off Wood
, offers up
free
design plans to make some of the most sought after furniture from Pottery Barn, Crate and Barrel, and Williams and Sonoma. For free I tell you!!!! Now, since you're reading my blog, I'm positive you will recall already reading YHL's
post on her
as well. She is getting some much deserved press and kudos to her!
And what do you know? She has the
plans
for the West Elm table! Now, I am nowhere near as talented as this girl is, not even in my wildest dreams. But, my friends, and this is a big but...my father-in-law is. He is a master at all things DIY. He's helped us tile our tub surround, paint every square inch of our home, install sinks, change out light fixtures, hang all new interior doors, rehab our kitchen cabinets and the list goes on and on...
Wonder if he'd be up for making a dining room table from scratch??? I buy, I
attempt
to help during the building process, and he
really
builds. Seems like the perfect combination. ; )
I'll keep you updated.
xoxo