So I gave you guys a little peek into my last week's World Market
shopping bag
and I forgot to mention that there is a specific item from World Market that is now residing on my wish list.
My latest obsession is an absolutely
gorgeous white lacquer desk
. It flirted with me while I was about to check out so I had to walk over to it and give it a second glance. It would have been rude of me to ignore its loveliness, don't ya think?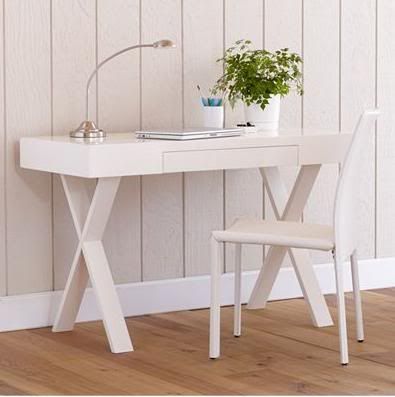 Alright, but let's be real here...
First, I don't need a desk. I know,
I know.
I can almost hear all of you saying, "Really, Joi?!" to me as you're reading this. Especially you, Maw Maw!
Second, and most telling, since when did I ever let
that
stop me? Come on, you all know my weaknesses by now.
Third, I signed up for World Market rewards and get 10% of my first purchase. Hmmm, I have to make a trip there this weekend anyway so I may just come home with Mr. desk.
He was so very handsome; take my word for it, ladies. Mmm, mmm! His online photo does not do him justice. ; )
xoxo